Best PICO Laser Treatment in San Diego
Our PICOCARE laser is an extremely versatile laser that safely treats tattoos and a variety of skin lesions for all skin types. The PICOCARE laser is not only effective for pigmentation and tattoos, but also for scars and skin rejuvenation.
The PICOCARE laser uses higher peak power and shorter pulse duration compared to other laser technologies, thus resulting in faster, more precise results and more comfortable treatments.
PICO TATTOO REMOVAL
Our PICOCARE laser effectively removes all colors of tattoos and pigments with fewer sessions and less pain than previous technologies.
Depending on the tattoo, removal with the Picocare laser can be completed in 2-10 sessions. The interval between treatments is 8-10 weeks on lighter skin types and 12-14 weeks on darker skin types.
Laser energy is directed at the tattoo, directly targeting the ink. With each session, some of the ink is disrupted, broken down, and excreted from the body naturally through the lymphatic system.
We offer a variety of cooling/numbing techniques for comfort during treatment
Pricing is determined by the size of the tattoo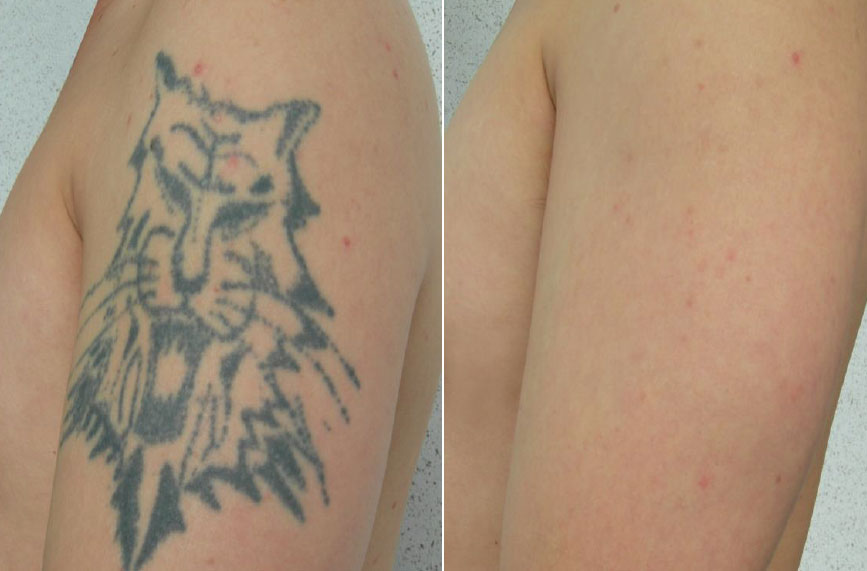 PICO TONING AND REJUVENATION
PICO toning is a comfortable treatment used to improve dull skin tone and remove unwanted pigment with minimal downtime.
HEXA/MLA toning and rejuvenation is indicated for various types of scars, skin tone improvement, and overall skin rejuvenation (improvement of pore size, fine lines, wrinkles, and uneven texture).
Scar improvement and skin rejuvenation is achieved by the stimulation of neocollageneis and collagen remodeling.
Treatments for scars may require 5-7 days of downtime
Skin rejuvenation treatments may require 1-3 days of downtime
Depending on treatment being performed, and severity of condition, you may need between 3-6 treatments
PICO CARBON LASER EXFOLIATION
The Carbon Peel is a non-ablative laser treatment with minimal to zero downtime. A series of carbon peels can reduce oily skin, blackheads, enlarged pores, dull skin and acne on face or body. It is an excellent way to exfoliate and provide an instantly refreshed appearance, leaving it soft, smooth, bright and firm.
A layer of black carbon cream is applied to your skin, where it penetrates deep into the pores. Laser light is highly attracted to the carbon particles. When the laser passes over the area, it destroys the carbon particles, taking the dead skin cells, contaminants and oil with it.
Carbon Laser Peels are often recommended as a series to achieve desired results, and treatment is highly variable, depending on the severity of acne. Treatments can be spaced between 2 to 4 weeks apart. Maintenance treatments after your initial course are recommended. As with all skin treatments, carbon peels should be supplemented by a good skin-care routine and daily use of high spectrum zinc or titanium sunscreen. Noticeable results can be experienced after a single treatment, but for maximal long-term results we recommend regular treatments.